Introducing Dr Jerry Nockles – IHEA Membership Services and Government Relations Manager
We announce the continued growth of Independent Higher Education Australia (IHEA) with the introduction of Dr Jerry Nockles as IHEA's Membership Services and Government Relations Manager.
Jerry has extensive experience in membership engagement, stakeholder management, and government and public relations.
A military career, a doctorate in political science and international relations, service as a ministerial Chief of Staff, and senior managerial roles with Australia's largest NGO and within the United Nations organisation give him a critical edge in leadership, analysis, public policy formulation, communication, and advocacy.
"IHEA is extremely privileged to have person of such high calibre and with a passion for member engagement and government relations, particularly as we navigate the path through post-Covid recovery, potential economic headwinds, the new federal government, and 47th parliament of Australia," said IHEA CEO Dr Peter Hendy.
"I firmly believe that renewal is critical to the success of member organisations and that fresh vision and energy is vital to continued growth and impact. Jerry will energise our ongoing work to support IHEA members to prosper and our students to succeed."
"Jerry is forthright thinker of mature judgment and is ideally placed to develop and advance IHEA's member engagement and participation."
"I hope you will join me in welcoming Jerry and share my excitement as we embark on the next stage of IHEA's growth."
Jerry is Canberra-based. He will work in the nation's capital as well as IHEA's Melbourne office, and travel interstate as required.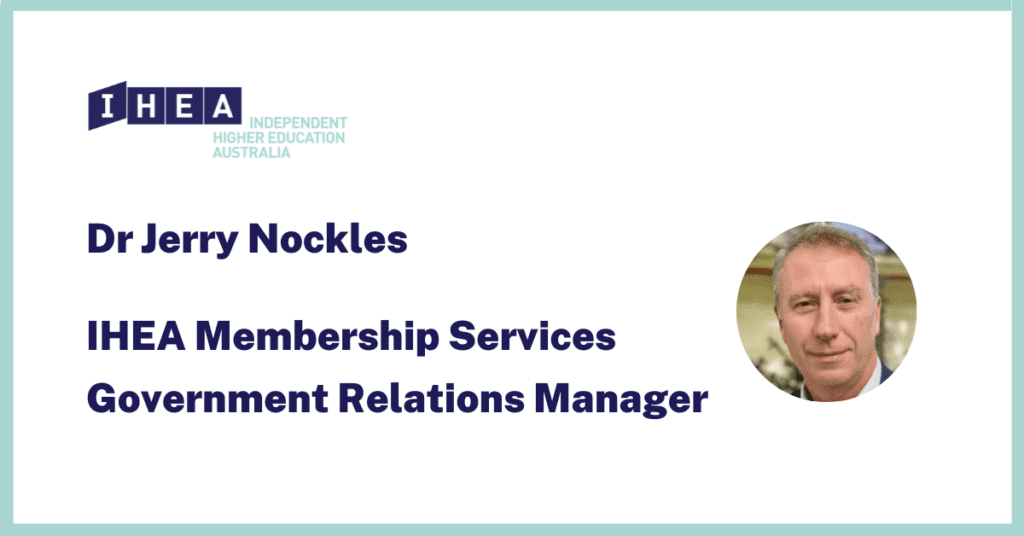 Our IHEP News keeps you up to date with the latest higher education information, policies, comments and IHEA submissions.