Thank you for your valued support of IHEA this year. We look forward to working with you in 2023 to continue growing the respect and recognition of Australia's independent higher education sector and supporting you to succeed.
2022 Highlights
As the year ends, it is worth reflecting on some of our highlights. Earlier in the year, we welcomed new CEO Dr Peter Hendy, followed by Membership Services and Government Relations Manager Dr Jerry Nockles, and Policy and Research Director Michelle Muchatuta. We also welcomed Bobby Abraham from Excelsia College to the IHEA Board.
Based on feedback from our members, IHEA led the charge on several issues including confirmation of the FEE-HELP loan fee exemption for this year, student visa processing issues impacting independent providers, deferral of implementation of TEQSA full cost recovery until next year, waiving of international TPS levies and certain TEQSA and ASQA regulatory fees in 2022, and bringing members together to support Ukrainian humanitarian visa entrants to Australia through the provision of education scholarships, among others.
We represented the independent higher education sector as we advocated for a national strategy for higher education reform by continually engaging with decision makers in the new government and others from across the political spectrum, along with higher education leaders in government departments. In support of this, we were involved in progressing the Universities Accord review of higher education. Members will remember we called for such a review when we released our pre-election platform earlier this year together with a series of highly beneficial sector reforms.
Thank you to our members for participating in our exclusive networks throughout 2022. These guide our advocacy, policy submissions, and member services. The IHEA member networks have concluded for 2022, but will resume in the new year. We will provide members with meeting details upon our return to the office in the new year.
In 2023, we will continue to advocate, represent, and support our members on key issues and higher education sector reforms to ensure, as much as possible, a level playing field between public and independent sector providers.
IHEA Office Closure – Christmas and New Year
The IHEA team will enjoy a well-earned break over Christmas and New Year, so we all come back refreshed to assist you next year. The IHEA office will close this Friday 23 December and re-open on Tuesday 3 January 2023.
The IHEA office closure does not mean you can't reach us – IHEA member support is always available. Select members of the team will be engaging with emails throughout the Christmas – New Year period. If you need any assistance, please don't hesitate to contact us.
Thanks again for your support and assistance in 2022. It has been our pleasure to work with you and support Australia's independent higher education institutions.
On behalf of the IHEA team, we wish you, your families, and colleagues a Merry Christmas and rejuvenating festive season.
Alan Finch Dr Peter Hendy
IHEA Chair IHEA CEO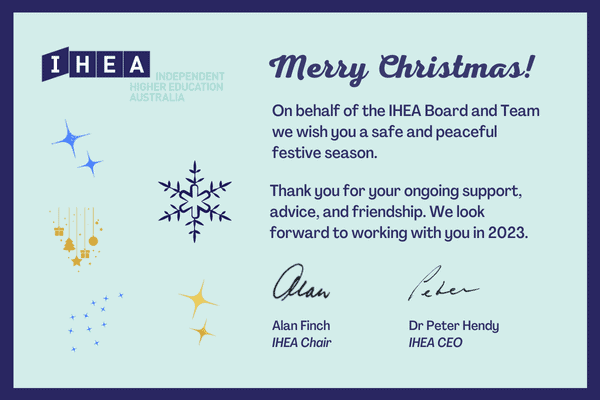 Our IHEP News keeps you up to date with the latest higher education information, policies, comments and IHEA submissions.